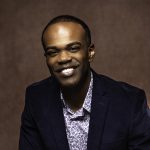 Director of Contemporary Music and Assistant Professor of Music, Shenandoah Conservatory
Pianist |  Consultant 
When Rod Vester discovered the piano, at the age of five, his fascination with the instrument, and later the organ, created a lifelong passion for music education and theory. Dr. Vester is an educator, researcher, entrepreneur, pianist, organist, composer, conductor, and producer who excels in gospel, jazz, classical, and contemporary music. He has performed with numerous artists, across genres, including Grammy Award winners CeCe Winans, Kirk Franklin, and the late Aretha Franklin. Additionally, he has worked as a producer and arranger on over thirty albums. As an arts consultant, Dr. Vester has helped expand the educational and artistic programming for many organizations and remains an active performer, clinician and speaker who has presented at Chamber Music America, Sphinx, and at state and national music education conferences. As an educator, Rod is committed to creating spaces where all students feel valued, voiced, and visible. He currently serves as Director of Contemporary and Assistant Professor of Music at Shenandoah Conservatory. Rod holds a bachelor's degree in Psychology, a master's degree in Counseling, a master's degree in Musicology, and a Ph.D. in Music Education.