Richard J. Bogomolny National Service Award
Named in recognition of the outstanding leadership of former CMA Board Chairman, the Richard J. Bogomolny National Service Award is presented to an individual or organization who has made a significant and lasting contribution to the chamber music field and enriched our national culture by fostering a greater appreciation for chamber music.
 2023 Recipient: Lucy Shelton
The only winner of two Walter W. Naumburg Awards—as a chamber musician with The Jubal Trio in 1977 and as a solo singer in 1980—soprano Lucy Shelton is an internationally recognized exponent of 20th and 21st-century repertory who continues to be active as a performer and teacher. 
Having grown up in a large music-making family, Lucy's passion for chamber music was solidified through flute-playing at the Greenwood Music Camp. Other early musical experiences occurred at the Putney School and Pomona College, followed by vocal studies at the New England Conservatory. After moving to New York in 1968, Lucy, a freelance chorister, taught young people at The Third Street Music School where she formed her first chamber group, the Third Street Chamber Players. At the Aspen School of Music in 1971, she was one of the legendary mezzo-soprano Jan De Gaetani's first voice students and was indelibly guided (and continues to be inspired) by Jan's wisdom and artistry. 
Although Lucy's first solo professional work was with the early music groups New York Pro Musica and the Waverly Consort, she was soon to be recognized as a "new music diva" (NYTimes) capable of meeting the challenges of contemporary compositions. Among the many composers whose works she has premiered are Elliott Carter, Oliver Knussen, Alexander Goehr, Mario Davidovsky, Joseph Schwantner, Gyorgy Kurtag, Charles Wuorinen, Susan Botti, Shulamit Ran, Virko Baley, Louis Andriessen, Augusta Reade Thomas, Stephen Albert, Milton Babbitt, and Kaija Saariaho.
Lucy's chamber music repertoire includes works by Schubert, Brahms, Ravel, Berio, Villa Lobos, Schoenberg, Dallapiccola, Boulez, Hindemith, Crumb, Shostakovich, Ives, and Crawford Seeger. Her performances have been heard at festivals such as Santa Fe, Ojai, Aspen, Tanglewood, Yellow Barn, Chamber Music Northwest, Marlboro, Salt Bay, Lake Champlain, Caen, Kuhmo, Lockenhaus, and Togo. Lucy has sung with the Juilliard, Mendelssohn, Chiara, Enso, and Guarnieri string quartets and with mixed ensembles including the 21st Century Consort, Da Capo Chamber Players, Continuum, eighth blackbird, New York New Music Ensemble, Speculum Musicae, Dolce Suono, London Sinfonietta, Nash Ensemble, Ensemble Variabile, Ensemble Intercontemporain, and Asko-Schoenberg Ensemble.
She was nominated for a Grammy with the Enso String Quartet for their recording of Alberto Ginastera's Quartet No. 3. Other honors include the Distinguished Alumni Award from the New England Conservatory and Honorary Doctorate Degrees from Pomona College (2005) and the Boston Conservatory (2013). 
Throughout her career, Lucy has appeared with major conductors and orchestras worldwide. Most recently she made her grand opera debut in the premiere of Kaija Saariaho's "Innocence" in Aix-en-Provence. This production will travel to Helsinki, London, Amsterdam, and San Francisco through the spring of 2024. Most appropriately, Lucy's role is that of "The Teacher" and is written in sprechstimme.
Michael Jaffee Visionary Award
Created in 2016 and renamed in 2021 to honor CMA's visionary founder, the Michael Jaffee Visionary Award recognizes promising, creative thinkers and innovators who are challenging traditional models and have recently had—or are on the way to having—a noticeable impact on the ensemble music field.
2023 Recipient: Ronnie Malley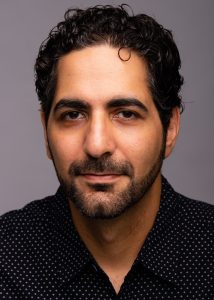 Ronnie Malley is a Palestinian-American multi-instrumentalist musician, composer, sound designer, producer, actor, playwright, educator, and executive director of Intercultural Music Production.
His recent credits include session musician on the Netflix series Mo, author of the acclaimed solo play, Ziryab, The Songbird of Andalusia, co-author of the Kennedy Center Citizen Artist award-winning play American Griot, and composer and performer in regional and international productions including the Tony Award-winning Broadway musical The Band's Visit, Disney's The Jungle Book, Oregon Shakespeare Festival's The White Snake, and Chicago Shakespeare Theatre's Macbeth.
Ronnie is a teaching artist with Chicago Public Schools, Global Voices Initiative, Chicago Arts Partnership in Education, a faculty member at Old Town School of Folk Music, and a guest lecturer at universities.
Ronnie has a BA in Global Music Studies from DePaul University and specializes in music of the Middle East, North Africa, India, and medieval Spain. He is currently pursuing a graduate degree at the University of Chicago, and his master's thesis was on sacred and secular music and poetry from the Abrahamic traditions of Andalusia, Spain.
Accomplished on the oud, guitar, keyboards, and percussion, Ronnie has performed various global music styles with the groups Allos Musica, Apollo's Fire, Diwan Al-Han, EMME (East Meets Middle East), Huzam Ensemble, Lamajamal, Mucca Pazza, Newberry Consort, Surabhi Ensemble, Yves Francois & Rocambu Jazz, and the U of C Middle East Music Ensemble.
CMA will honor Lucy Shelton and Ronnie Malley at an Awards Ceremony and Luncheon on Sunday, January 8.
Tickets to this event are only available via Eventbrite and are not included with general conference registration.