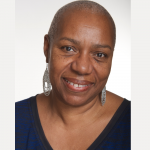 President,
Gail W. Boyd, P.C. and Gail Boyd Artist Management
Gail Boyd is President of Gail W. Boyd, P.C., an entertainment law firm, and Gail Boyd Artist Management. A founding partner in the first African-American female law firm in New York City, Gail has worked in entertainment law and in music with a specialty in jazz since the 1970s.
In 2020, Gail helped create the Jazz Coalition, which funded over 100 jazz commissions based on the pandemic and social unrest; joined The Blacksmiths, which created resources for the field; and co-founded Vanguard Arts, a consulting company serving artists and arts organizations. Gail was named a 2021 Jazz Hero by the Jazz Journalists Association for providing a virtual meeting space for musicians and industry professionals to come together in the wake of the Covid-19 pandemic.
Gail currently sits on the boards of The International Society of Jazz Composers and Arrangers and the North American Performing Arts Managers and Agents (NAPAMA), where she has served as President since 2019.
Jazz and Chamber Music Touring and Presenting During Covid and Beyond