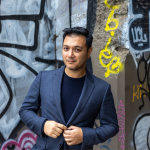 Tenor / Artistic Director
Collaborative Arts Institute of Chicago
American tenor Nicholas Phan performs regularly with the world's leading orchestras and opera companies. An avid recitalist and passionate advocate for art song and vocal chamber music, Phan co-founded the Collaborative Arts Institute of Chicago, an organization devoted to promoting this underserved repertoire, in 2010. A celebrated recording artist, Phan, a three-time Grammy nominee, was the first singer of Asian descent to be nominated for Best Classical Solo Vocal Album in the history of the category.
In addition to his work as artistic director of CAIC, Phan's work as a curator and programmer examines themes of identity, highlights unfairly underrepresented voices from history, and underlines the relevance of music from all periods to the currents of the present day.